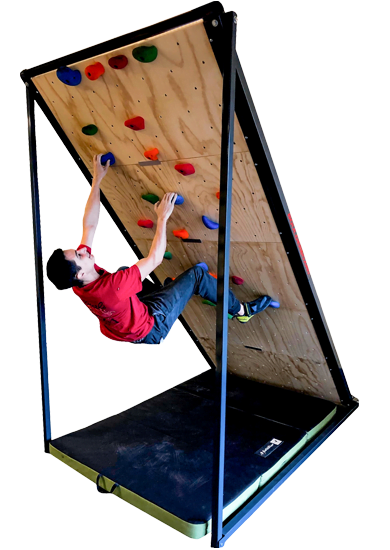 Boulderboard® 4 
Our most compact freestanding & collapsible training wall.
Designed with the tightest spaces in mind
Lightweight & easily disassembled for storage
Adjustment ranges from -15 to -40°
Shop our Base model or our Pro-Package with 24 training holds and Hangboard Mount
Round top-bar for pull-ups
Optional Exterior Upgrade for outdoor use
Download Specification sheet here
"The Boulderboard worked perfect for my limited space, it is easy to breakdown and the hangboard mount is key for my training"
-Harrison Dekker /Climber                                             
Welded steel construction
The attractive fit and finish will compliment any room and lifestyle with furniture-quality construction and Treadwall Fitness's legendary durability.
Easily transported
Designed for easy assembly and breakdown in 15 minutes, the parts fit in a small car carried by one person. These are made to move with a mobile lifestyle allowing your training to stay constant.
Plentiful route setting
With 180 possible hold positions over 10 feet, route setting is almost infinite. Whether setting random moves or system wall, a Boulderboard4 gives you options.
Simple angle adjustment
The boulderboard can be set from a -40 deg. angle for 8 foot ceilings to -17 degrees for 10 foot ceilings.
Convenient training
Consistent training is often a matter of convenience: a Boulderboard is truly convenient. Whether in a circuit or standing alone, short bursts of work are possible anytime with no preparation.
Flexible training options
Whether just warming up, focusing on power alone or specific training goals, the simplicity of the Boulderboard allows a wide variety of training options from simple fitness to high level climbing.
| Name | Value |
| --- | --- |
| Weight | 210 Pounds. |
| Construction | Steel framework with custom-machined wood panels. |
| Placement | Inside standard - outside with exterior upgrade. |
| Width of Climbing Surface | 4 feet. |
| Total Length of Climbing Surface | 10 feet. |
| Number of Possible Hold Placements | 180.  |
| T-nuts | 3/8-16 pre-installed. |
| Angle | Adjustable from 17 to 40 degrees overhanging. |
| Frame Color | Anthracite gray. |
| Panel Color | Natural wood. |
| Warranty | 1 year limited warranty. See full warranty for details. |
Downloads:
Download Specs PDF
Download Metric Specs PDF

The Boulderboard4 ships in 4-5 boxes via package services and the Boulderboard6 ships on one pallet by motor freight. International ocean shipments are fully palletized on one export pallet. The heaviest box is about 90 pounds: the heaviest part after opening is 30 lbs. All parts can fit through standard doors and can easily be carried up and down stairs. Installation of a Boulderboard takes 1 person about an hour and requires some experience with basic hand tools.