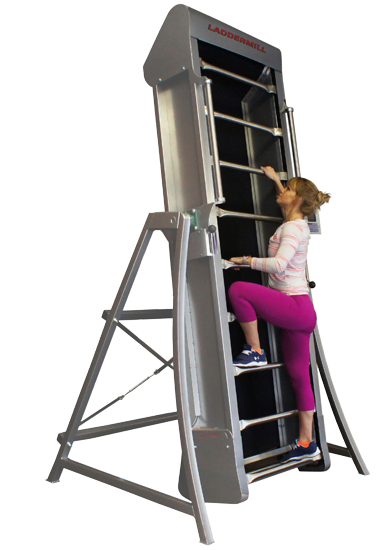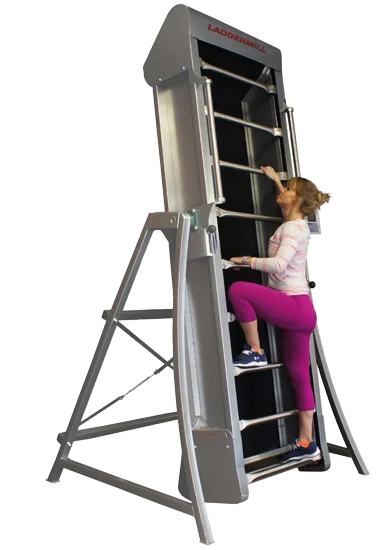 Laddermill® Ascender
The Laddermill® Ascender is the premier ladder climbing fitness system for vertical movement.
Designed for fitness gyms, fire and rescue training, schools and rehab programs.
Adjustment range from +15 to -15 degrees overhanging.
Pro-Package ordering comes complete with a digital display and floor mat.
Download full Specifications here.

Please contact us below for pricing.
"This machine has a lot of variations to make the workout more challenging or for beginners. There is something for everybody."
Ryan Mandeville- Personal Trainer

Motorless and self paced
A simple philosophy backs every Treadwall Fitness product: training should be done by body weight alone at the climber's pace. When the climber moves, the ladder rotates: when the climber stops, the ladder stops.
Intuitive movement
Everyone can climb a ladder without instruction. Laddermills make the challenge and fun of vertical movement available to everyone using intuitive movement and controls. No training needed.
Simple lever controls
One lever allows users to change the Laddermill angles 30 degrees before or while climbing, while a second controls speed from stopped to fast: all are intuitive.
Flexible workouts
Climb at different angles to stress upper or lower body, use as a traditional stepper with the built-in hand rails or standing on the ground makes it a powerful upper-body and stretching machine.
Rugged industrial design
The Laddermill has a rugged industrial design proven over years of hard commercial use. There is minimal maintenance and no scheduled wear parts to worry about.
Full warranty and support
All Laddermills are backed by a six year parts/one year labor and electronics limited warranty, and the support of Treadwall Fitness with 30 years of pioneering work in climbing and fitness.
Name
Value
Weight
590 Pounds.
Construction
Steel framework with stainless steel rungs.
Placement
Indoor (outside with exterior upgrade)
Width of Climbing Rungs
30 inchs
Angle Range
positive 5 degrees to negative 20 degrees (overhanging).
Mode of Control
Electro-hydraulic braking and resistance.
Electrical Requirements
9 VDC (1500ma) Plug-in transformer (supplied) -
for display only
Electronic Display
Measures distance (feet or meters), time and calories.
Time and distance goals can be pre-set.
Frame Color
Anthracite Gray. Custom colors available.
Warranty
6 years on structural parts, 1 year on electronics and labor.
See full warranty for details.
Downloads:
Download Specs PDF
Download Metric Specs PDF
Laddermill Access Requirements PDF
The Laddermill ships on one pallet via motor freight. Costs are quoted per shipment and depend on access issues such as obstructions and if the final location is at ground level. International ocean shipments are fully crated in one single crate. Both the pallet and crate can easily be broken down outside of the install site and most the individual parts can be carried inside. The Laddermill core is about 350 pounds and can be safely moved with furniture dollies or hand carried by 4 to 5 people.
Only basic tools are needed to unpack the pallet or crate. The Laddermill core is large and may require some thought in regards to sharp corners and stairs. Please contact us for more details. Installation of a Laddermill takes three people 2 hours and requires some experience with basic hand tools. Many of our customers install their Laddermills themselves but we can recommend service technicians in most areas if needed. Every Laddermill ships with a detailed and easy to follow instruction manual and video.